About Web Werks
My name is Sue Foss – Passionate about the Web and how I bring that to my clients.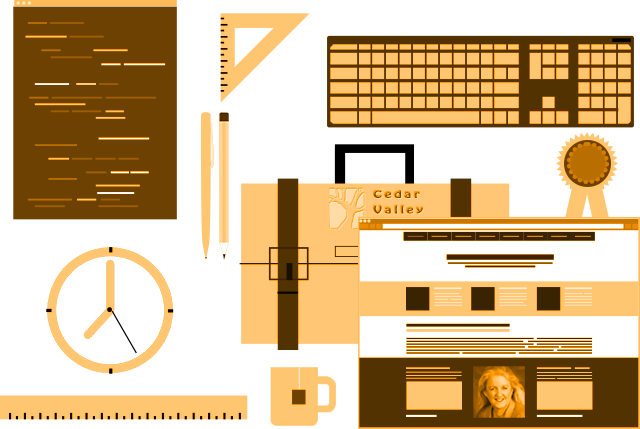 I am based in the Austin TX area. I build elegantly coded dynamic and responsive websites; flawlessly displaying across desktops, tablets and smart phones. I speak a variety of modern content managed platforms such as WordPress, Joomla, Bootstrap, html and more. This website is a composition of my many projects so please take a few moments to explore its contents.
PHP Programming
Expert PHP programming with specialty in WordPress and OpenEMR
Great Support
I won't disappear and I commit to delivering a solution to your problem
Experience
Fifteen years of professional experience with emphasis on WordPress.
Mentorship
I love teaching and mentoring new clients or users who need help.
Cedar Valley Web Werks is a freelance web designer/developer and passionate creative. As the creator of cedarvalleywebwerks.com she utilizes third party services and other designers as needed to deliver top notch services to her clients. With Design in mind, the strategy of Web Werks is to provide Enterprise Web Design, Graphic Design, Multimedia Design and Domain Hosting Solution. Currently located in the heart of Texas; where are heart is 🙂 Our goals consist of providing clients with a fresh perspective regarding identity through visual communication services or practical graphic design work. As a dedicated designer, it is a responsibility to create smarter dynamic websites or designs to attract and maintain customers. Our digital web strategy and development is all about creating the right design solution for clients. CedarValleyWebWerks.com aims to exceed the expectations of our clients through creativity and success. Sue takes pride in making websites searchable, findable, scalable, intuitive, visually beautiful, modern, cross-platform, with the latest web standards and functionality. Websites created are about the focus, goals and objectives, not just technical blueprints. They are created based on a digital strategy and data, not some gut feeling, guesswork and personal preferences. Web Werks builds smarter websites by creating solutions that have both creative elements combined with rational business ideas to ensure success. The best thing about our design is the flexibility to add new features. Everything about that makes every client happy especially when it becomes cost
Need a Quote?
Great! I'm looking forward to learning more about your business and your project goals. This questionnaire should get things rolling.